2012 was a busy year!
January started in the usual fashion – seeing in the New Year at Braid Wood Campsite, with a disco and Bucks Fizz. Recovery took a few weeks doing gentle activities such as archery and a pub quiz.
February saw the invention of the Glolympics – Olympic events staged in the dark with only glow sticks to identify competitors or props. It also saw the comeback of the Pub Hike from Wycombe to Braids (and what pub hike would be complete without copious amounts of snow?) Waking up in the morning to a completely unspoiled field was a real treat – until we ruined it with a giant snowman, snowball and an igloo!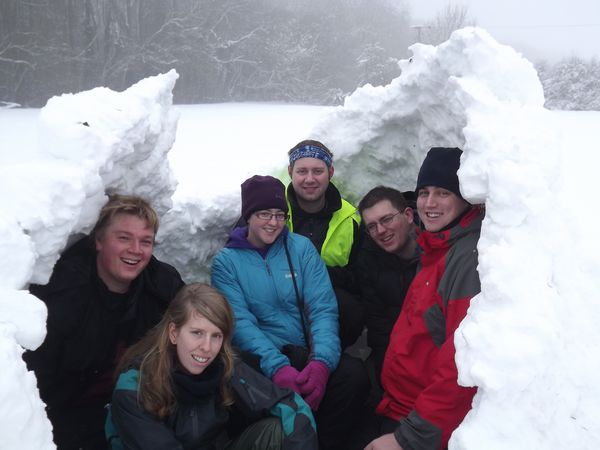 March, for three of us at least, was a real struggle. It saw us enter our first team in years into Endurance 80 – a 50 mile/80 km hike around Bucks, starting and ending in Great Missenden. Sadly, none of our guys managed to finish, although they gave it a good shot, although we have high hopes for next time! We also helped out at the annual High Wycombe District swimming gala, starting races and awarding positions and points for the price of a pint.
Easter weekend saw us take a trip down to the New Forest for hiking, Go Ape, a castle, a zoo, a posh dinner cooked on gas cookers (I still have some chocolate fondue if anyone wants any?) and a brewery tour (no more beer for you, Ian!) We also got the opportunity to make our own sausages at Courtney's family butchers. This consisted of grinding the meat, getting it into the skins, twizzling and far too many sausage based puns!
For May, Alex organised a canoeing expedition in Herefordshire with lots of pirate-y fun! The highlight of this was definitely finishing with more inflatable parrots than we started with. We went climbing at Green Park, organised by our good friend Chris. We also started visiting Explorer units in our area to advertise Network – Network is good, ya? These events have gone down really well, and we are hoping that we shall see the fruits of our labours soon.

In June, we checked out the annual Donkey Derby in Chesham with a view to building up a partnership for 2013 onwards. We also braved Lord Health-and-Safety with some raft building, only to discover he had grown healthier and safer, so we had to deliberately build the rafts wrong to ensure that fun occurred.

One of our favourite events of the year had to be the High Wycombe District Camp, held at Braids in July. The event happened after a long, prolonged period of intense rain so, despite the weather's attempts to be cheerful, we started off on a bad foot. Our analytical minds and problem solving abilities were swiftly put to the test by the seventh vehicle onto the field, which promptly got stuck on the mud in the car park and had to be pushed out by our big, strong lads. Problems were brought to a head on Saturday, when a fresh load of rain caused BP to decide to evacuate on the Sunday, and Andy and Steve were left rolling and squeegeeing the mud. The only thing left to do was hold on to our hats and wait patiently for an easy weekend at the Penn Street Beer Fest the weekend after.

Insert photo of muddy goodness (Andy rolling the mud).

August is usually a fairly quiet month due to holidays, but we still had a lot to look forward to. Top Golf was first up, followed by a pub quiz and then cupcake decorating! It was a very creative evening, and some of the masterpieces looked far too good to eat, although most people went home on a sugary high.

Having had to work hard for the HW District camp in July, the 3rd Chesham 50th Birthday Party and the Chiltern North District Camp were rather easier affairs, though try telling that to Jeanette! We also got the opportunity to pretend we were six again, by spending an evening playing beaver games!

October we had our first Endurance 80 practice hike, though I think Rachel would have appreciated being told she was going to walk 20 miles beforehand! We also started brewing our own Firestorm beer, which still doesn't have a name other than "Home Brew" and requires a preliminary drink (or three)beforehand! Other than that, apparently it is good. We also had the Braidwood Regatta comeback, which raised loads of money and is looking set to return annually.

The annual Firestorm Firestorm kicked November into life! A bonfire, hot dogs and fire poi were the order of the day, with interesting shapes being thrown in the fire pit at Dorney Wood. This is also when we paid tribute to The Venue, Firestorm's home from home for many years. We were tasked with clearing out and burning the majority of the contents, hoping that all the voles and glis glis had escaped safely. None of us were sorry to say goodbye to the vole blanket.

Insert: fire poi photo.

December was started by Network is 10! organised by our new County Scout Network Co-ordinator Lindsay. Many members, old and new, were present for an excellent evening of drinking, games and merriment to celebrate our birthday. The second Endurance 80 practice hike was a gentle (!) 25 mile stroll around Wycombe and its environs. By the end, most people were hoping that they would be able to complete E80 this year, if only so they don't have to do it again next year. A friendly Christmas meal at the excellent Old Queen's Head in Penn (although what self-respecting pub doesn't sell Archers or Malibu and will only serve summer Pimms in winter?) before another messy New Year's Eve party at Braids to round off.

And what about next year? We are all really excited about the upcoming Canal Boat weekend, organised by Lindsay, hoping that at least some of our members complete Endurance 80, a May Bank Holiday camp and hopefully a horse riding expedition in October. One thing's for sure though: 2013 is going to be manic!