One of the things that we aim to do as a Network is go on regular camping trips away from the Bucks area. Although we have monthly camps up at Braid Wood, we also aim to get away a couple of times a year, and what better time to go to the New Forest than over Easter, when we have four uninterrupted days off?
Our trip started spectacularly. Lindsay had gone down early to set up, with me, Steve, Ian and Andy travelling down after work. Ian bounded into the car, complete with his own, personal brand of travel monopoly – a full size board that he had spent the previous Wednesday sticking magnetic tape to. Unfortunately, he had neglected to stick tape to the counters and, almost before we left Wycombe, Andy had already had to find a new piece. By the time we reached Hampshire, three pieces remained, one having been lost and found again, and Steve's ship survived gallantly on the stormy waters of the monopoly board, before it was torpedoed by Ian's boot.
The top hat remains missing.
Once there, we were delighted to find that Lindsay had already put up our tents and all that remained was to build a fire with soggy wood, a task which presented a lot of difficulty to our usually talented fire-lighter, Andy, while Ian and Steve cracked open the casks of Rebellion© beer.
Friday, we went for a walk through the New Forest. We stopped on the way to take a look at the Rufus Stone, a memorial for King William II, who was killed by an arrow in the New Forest, purportedly on that very spot, by William Tyrell, apparently on the orders of his brother, later Henry I, in 1100 AD. Lindsay didn't fancy it, but we made sure to leave the window open a crack!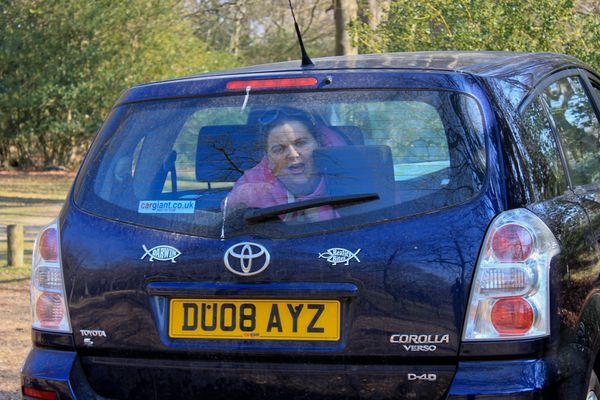 Halfway through a lovely stroll in the woods, seeing lots of cattle, horses and deer, we stopped off at the pub for a drink, where the boys sampled a lovely green beer, and when I say green, I don't mean that it was organic! The boys continued, while Lindsay and I stayed back and rested our weary feet. And knees. And backs…
Michael appeared that night, giving us perfect numbers so that we could learn how to play the card game Canasta, again while drinking some lovely ale. Canasta in the dark however, round a fire, proved very difficult, especially as half the players had no clue what was going on!
Saturday morning, and Ian was up early, having managed to gas himself out of his own tent. We had a full day ahead of us, starting with Go Ape! – the most adventurous thing I had done since having my back surgery. It proved ok however, except when it came to the swinging tunnel, where I found I couldn't exit the tunnel at the other end, and had to be rescued by Steve. Ian and Michael, always excitable, insisted on doing everything at least once, even if it meant going back several stages to go along the other routes.
From there, we headed to the Ringwood Brewery, where we sampled some excellent beer and even some of the base products – we really do not recommend the chocolate malt! We then stopped off at a Cider farm in Burley, where we tried yet more alcohol and purchased some yummy cider and mead. It had started to rain by this point, but some people decided to brave the weather and head into the village, where many different varieties of fudge were bought including a rather interesting Bailey's flavoured one…
We also tried out a new idea – a posh dinner cooked on camp stoves! For starters, we had some delicious melon and parma ham, followed up by honey glazed pork chops and cous cous. However, the pièce de résistance was the pudding. 800g of Cadbury chocolate, a pint of cream and a very generous slosh of Baileys made an absolutely decadent treat. Dipping strawberries, banana, marshmallow, mini doughnuts and melon, we all agreed that it was the perfect way to finish our meal.
The Sunday consisted of a trip to Marwell Zoo to see the new baby giraffe and were also amused to see a few meerkats playing in Easter egg boxes – one had got it stuck on its head and was bounding around trying to get it off!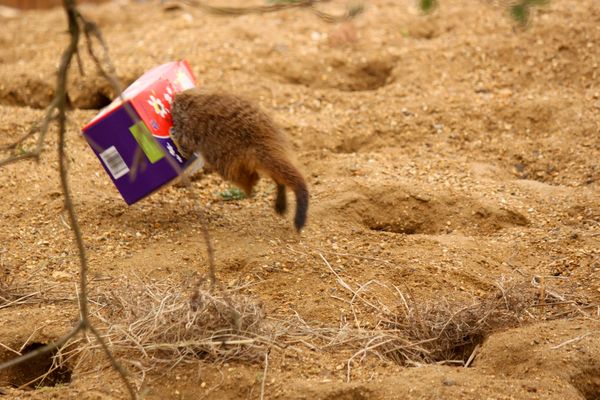 In the evening, no cooking for us! We headed for the local restaurant, minus Michael who had to return home for work, and had an absolutely delicious meal, then stayed until it shut – much to the chagrin of the staff – playing cards and charging our phones. While the boys decided to romp across country to the campsite, Lindsay and I headed back in the car, only to hear noises emanating from my tent…
Rustle.
Rustle, rustle!
What is it? Who can that be? What can that be? Is there someone or something trapped in the tent? Is it a bird? Is it a rabbit? Could it even be a fox?
Nervously, I bent down to open the tent, pausing to pull myself together.
I ripped the tent open, expecting an animal to come bursting out at me and?!
Nothing.
We decided to go to bed after that – far too much excitement for one evening – and waited for the boys to return.
Monday it was wet. We woke up to rain. We packed up the majority of our stuff, leaving it all in the tents in the hope that it would dry out in time for them to be taken down, and headed for the coast. We reached the ferry port for the boat out to Hurst Castle and decided against it in distinctly wet and windy conditions. We headed off to find some lunch, which was difficult in a village which happened to have a food festival on that weekend.
After lunch, it had quietened a bit, and we decided to brave the bumpy and wet boat out to the castle. It was a bit of an odd castle, sat on an outcrop of land into the sea, mixing Tudor and WWII architecture, periodically battered by the waves. We had the place almost to ourselves, and set ourselves to exploring, which didn't entirely go well – Ian managed to lock himself out on a roof, I got stuck in a hole, and Andy went for a paddle.
Once back at the campsite, it was raining harder than ever, so we decided to just go for it and pack everything down in a hurry. For people around us – no we were not loading a body bag into the back of the car. It was in fact one of our tents packed very poorly into a dry sack to protect the rest of the contents of the car!
Feeling wet, bedraggled, tired but happy and content, we headed home, back to work and back to normality, having thoroughly enjoyed our weekend away.